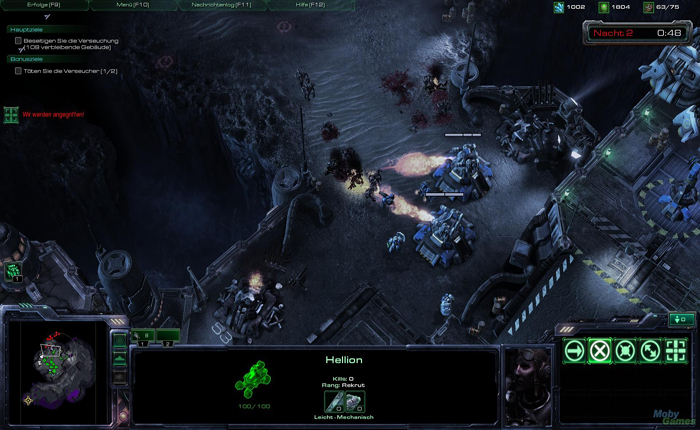 StarCraft II: Wings of Liberty EU (PC/Mac)
Plataforma

pc

Versión

Global
About This Game
Welcome the Koprulu sector. You are Jim Raynor, and you're on a crusade to bring down the Dominion and its nefarious leader, Arcturus Mengsk. Haunted by betrayal and remorse, some believe you've given up the fight. But you have promises to keep – and a need for vengeance that's long overdue.
Whether you command the mysterious Protoss, the nomadic Terrans, or the ruthless Zerg, you must decide how to outwit or outgun the enemy in an unforgiving universe of intense strategic combat.
Devise and deploy merciless strategies with over 30 new units and weapons at your command. Torch foes with the Hellion's flamethrower, ambush adversaries with acid-spewing Banelings, or deploy the Void Ray's prismatic beam to annihilate your enemies.
Whether cheering on the underdog or rooting for a fan favorite, millions have experienced the thrill of battle and the rush of victory through StarCraft's vibrant eSports community. Now it's your turn.
With all-new single player missions, you'll lead the Terrans across the galaxy in a quest for glory, redemption, and revenge. You choose which missions to take, which storylines to complete, and where to invest your hard-earned cash.
StarCraft II Wings of Liberty has been the title that StarCraft fans have been waiting for, and for 10 years they've been asking to get it, and now they can. But more than ever before, the game goes even deeper into the lore, the gameplay, and the freedom it gives players.
For the first time, use the StarCraft II Editor in order to make your own StarCraft II battles, campaigns, mods, and more! Build them to your specifications, then share them with the world to see if they can beat what's in your mind! What will you create, will you expand the StarCraft II: Wings of Liberty experience? Or, will you complete change the game into something new and even more exciting? Try it and find out.
Feature:
Good balanced races Protoss, Terrans and Zerg, three totally different races have been balanced well. Enjoy different feelings when you control different races.
New 3D-engine New 3D-engine enables huge amounts of units to display at the same time, enjoy more fantastic and engaging gameplay.
New tools You are able to create your favorite maps and scripts to individualize your own gameplay.